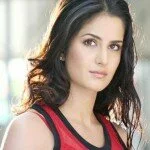 Recent reports state that Bollywood actress Katrina Kaif has been named as the most searched person online in India in 2011. The results were issued by search engine major Google.
The Britain-born Indian actress won the race leaving behind anti-corruption activist Anna Hazare.
Meanwhile, the study report was issued by Google with the topics and persons that Internet users in India searched the most in this year.
However, Anna Hazare tops the list in the category of 'Fastest Rising People', it is the list that includes person that have increased interest of Internet users. Kingfisher model Poonam Pandey is the second in that list.
In the category of new lists, IPL Cricket League tops the chart and the present hot topic is the 'Lokpal Bill', is the fifth most searched subject online.
Entertainingly, the report reveals that for the first time internet moved out of the realm of the metros, which was the trend until last year.
Talking to media, Google India Head of Products Lalitesh Katrgadda said, "Over 70 per cent of search happened in non-metros and a lot of Internet usage moved to mobile phones."