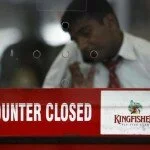 Seeking to revoke its suspended flying licence after being grounded fro three months, beleaguered Kingfisher Airlines today submitted its interim revival plan to aviation regulator DGCA just ahead of expiry of its validity on 31 December.
Moreover, DGCA is on examination of KFA financial and operational plan submitted by CEO Sanjay Aggarwal and still no response has given by the regulator. If in favor of airline, it would expect to benefit airline another six-eight weeks to restart operations.
There is no timeline of DGCA for taking final decision on KFA revival place that will have given a clear image of its financial position whether to have adequate working capital management, capability to settle employees' dues and other payables.
But as per report, new conditions have been set for Kingfisher including cap on pilots flying for a month and clearance of dues from all the stakeholders.
For smooth functioning of its operations for next 12 months, KFA might be in need of about Rs. 652 crore that Mallya's United Breweries Group claimed to invest as part of the turnaround plan.
The company is in talks with several investors including Abu Dhabi's Etihad Airways about selling a stake in the carrier as banks are unwilling to infuse fund to airline in wait for a concrete revival plan.
$2.5 billion debted Kingfisher has not resumed its operations since October 20 when DGCA had suspended Standard Operating Permit (SOP) of the Vijay Mallya-promoted carrier flights following a strike of its pilots and engineers due to non-payment of salaries.