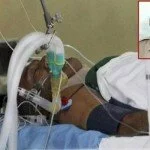 A Delhi Police Constable, Subhash Chand Tomar, 47 who was on ventilator has died, following Sunday's furious violent protests at India Gate over the gang rape case of a 23-year-old girl on December 16.
After seriously being injured during violence, Tomar was admitted at Ram Manohar Lohia Hospital on Sunday, had struggling for survival.
Tomar was cremated with full state honours on Tuesday and marking respect to Tomar, the Delhi Police decided to donate one day's salary from all police force to Tomar's family.
Now Police is adding murder charges to the case and arrested atleast eight persons, including an activist of Aam Aadmi Party led Arvind Kejriwal, under charge of attempt to murder in connection with the injuries caused to Tomar, as per source report.
Police said that Aam Aadmi Party activist Manish Sisodia had given amount for the bail. Police claimed that death of Tomar was attempt to murder as Tomar was beaten up by protesters during the anti-rape protests.
Criticizing the wrong arrest of Delhi Police, Arvind Kejriwal alleged that Delhi Police is telling lies, just trying to misleading public and implicate these eight innocent youth.
As per him, Police have no evidence against eight whom they had arrested, with charge of murder, from different places while protesting peacefully for justice to the gang rape victim.