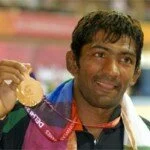 Quelling the challenge of Bulgaria's Anatolie Ilarionovitch 2-1, and Indian wrestler Yogeshwar Dutt entered into the pre-quarterfinals of the men's 60kg freestyle category at wrestling event of London Olympic today.
Winning his opening bout by 3-1 score, Yogeshwar performed well in seconf and thirds round after little taming in first.
However, in the first round, while both competitors were at equal 0-0 no point were made, Antolie after winning the toss for first attack, made his first point. But Indian athlete maintaining his balance and using tactics fired over his opponent and set point 2-0.
In the third period, Yogeshwar finally gave his strongest clinch over Guidea and named the hunt to his favour with 5-2 on technical points.
Raising India's hope for next medal at Olympic, now Commonwealth Games wrestling gold medallist Yogeshwar will fight with Russia's Besik Kudukhov in the next round of pre -quarter on Saturday.