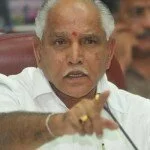 Former Karnataka Chief Minister B. S. Yeddyurappa who has been battling in Parliament for becoming once again as chief minister with great supporters, is looking to have an uncertain political future that shit on his image.
The Supreme Court today ordered the CBI to probe Yeddyurappa's alleged role in illegal allotment of mining leases scam and filled report as soon as possible before it by August 3.
Till that, all the proceedings in any other court will remain stopped, no further any appeal has processed. Backing the Central Empowered Committee's report, SC has found essential move of a CBI probe against him.
In CEC's report, it had mentioned that a probe by an independent agency related to illegal mining in the State in 2003 is required. However along with Yeddyurappa, there are other three former Chief Ministers whose names are filed in the report with reference.
The phase of situation has become worse for the powerful man of Lingayat community as his supporters tried to raise problems for incumbent Chief Minister DV Sadananda Gowda.
Being disappointed from that, Gowda wrote a "secret" letter to party President Nitin Gadkari accusing indulging in anti-party activities of Yeddyurappa supporters.
While the matter came into existence, BJP top post legislators also asked Yeddyurappa to take a clean in corruption cases against him and after that his dream to once again control Karnataka may consider.