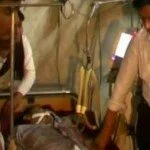 According to fresh news, the Samajwadi Party leader Mulayam Singh Yadav's family priest Ramesh Tiwari was killed by an unidentified shooter in Uttar Pradesh's Janupur district today.
It is said in report that priest Ramesh Tiwari was sitting outside his house with his brother Rajesh Tiwari when an unidentified gunman fired at him. It is said that gunman reportedly came disguised as policemen.
Reports added that Ramesh's brother Rajesh Tiwari also suffered bullet injuries in the attack.
Further, both the brothers were immediately rushed to the hospital.
Mulayam's family priest Ramesh Tiwari was declared brought dead while his brother Rajesh Tiwari was shifted to the Trauma Centre of the Lucknow Medical College.
Latest reports have said that Rajesh is also in serious condition.