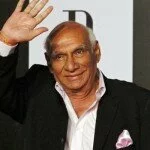 Reports have said that actress Jaya Bachchan has announced to cancel the acting workshop at the ongoing 14th Mumbai Film Festival [MFF] as she went to attend filmmaker Yash Chopra's funeral.
The 'King of Romance' filmmaker Yash Chopra died on 21 October after multiple organ failure. He was cremated at the Vile Parle crematorium.
The workshop was scheduled at the 14th Mumbai Film Festival at between 3 p.m. and 5 p.m.
Further, the Mumbai Film Festival also has an open forum talks by actor Shyam Shroff, Prahlad Kakkar, Mayank Shekhar, Amit Khanna, and Kamal Gianchandani, scheduled between 2 p.m. and 3 p.m., has also been cancelled for the same reason.
However, all the other programs were as planned. One minute of silence will be observed before every screening as a mark of respect to the filmmaker Yash Chopra.
Filmmaker Yash Chopra was a a trustee of the Mumbai Film Festival, and it was organized by Mumbai Academy of Moving Image (MAMI).
Talking to media, festival director Srinivasan Narayanan said, "He enjoyed making and screening films and to stop screening films is a discourtesy to him. He was the founder member of Mumbai Film Festival, the person who made MFF. We will pay homage to him by screening all the films without any glitch."
The legendry filmmaker is survived by wife Pamela and two sons – Aditya and Uday. While Aditya Chopra is a filmmaker, and Uday Chopra is an actor.
Yash ji had spent around 50-long years in the Indian cinema and gave superhit film and actor to the industry. Yash Chopra's all-time favourites like "Daag", "Kabhi Kabhie", "Silsila", "Chandni", and "Dil Toh Pagal Hai" and his own favourite "Lamhe".
Yash Chopra had announced on his 80th birthday that 'Jab Tak Hai Jaan' staring Shahrukh Khan, Anushka Sharma and Katrina Kaif would be his last film as director. The film is set to release on this Diwali, 13 November.