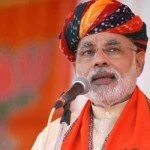 Marking three terms victory as Gujarat CM in the assembly elections, Narendra Modi-led BJP was sworn in for the fourth time on today.
Modi has ruled Gujarat since 2001 and his oath ceremony was held along with seven ministers of Cabinet and nine ministers of State by Governor Kamla Beniwal at an impressive ceremony at Sardar Patel Stadium.
Above 2.5 lakh people gathered at the ground chanted 'Bharat Mata Ki Jai'.
BJP president Nitin Gadkari was presented as guest appearance along with senior leaders L.K.Advani, Sushma Swaraj  and Arun Jaitley.
Besides them, Chief Ministers of Madhya Pradesh Shivraj Singh Chouhan and his Tamil Nadu and Chhattisgarh counterparts – Jayalalithaa and Raman Singh were also presented, along with top BJP allies.
Meanwhile, presence of all most all BJP top Brass shows a kind of support in favor of Modi if he wants to go national or we can say stand for Prime Minister Candidature.