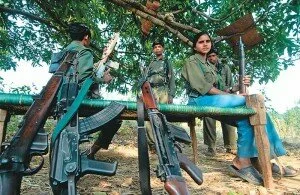 After killing all nine policemen in his escort vehicle at Ladu More in Latehar district, Naxal have attacked again for second time in 48 hours.
In their first strike on Saturday, they had fired a private bus covered with lot of passengers following behind Inder Singh Namdhari, the Jharkhand Independent MP.
In this attack an eight-year-old boy is killed and two are injured. Inder Singh Namdhari escaped unhurt, but 9 police officials including seven constables, an assistant sub-inspector and a havildar, in the bullet-proof with him were killed.
And now in their second strike, the maoists has been gathered at Latehar district in Jharkhand to avenge his killing and they show it by blown up a key rail track.
On Saturday, they've also called a nationwide strike in protest from Sunday.
However according to media report, there has been no casualties but many trains have been affected on the Kolkata-Ranchi-Delhi route.
These attacks are the first since top Maoist leader Kishenji was killed in a gun battle 10 days ago.
Share this:
Facebook
Digg
Reddit
Email
StumbleUpon