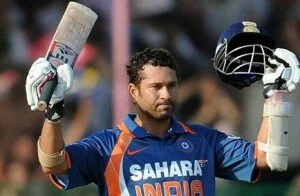 Some fresh reports from cricket reveals that master blaster cricket player Sachin Tendulkar is likely to play in the last two one-day internationals against the touring team West Indies.
Veteran Indian batsman is waiting for his 100th international century for the past 9 months.
In the meantime, Sachin Tendulkar missed his 100th century twice in the test series against West Indies, and if he gets selected in the last two ODIs against West Indies, he will hit that 100th mark as well.
Indian cricket team is leading the 5 match series with 2-0 and will be facing West Indies for the Third ODI on Motera today.
The master blaster was given rest in the first three matches against West Indies, but sources say Sachin wants to play in the last two matches scheduled on December 8 and 11 in Indore and Chennai respectively.
Sachin Tendulkar's last international 100 runs came on March 12 during a World Cup group league match against South Africa at Nagpur.
It has been more than eight months that Sachin as well as his fans has been waiting with bated breath for the elusive 100th century.
The last missed opportunity came in the third Test against Caribbeans when Tendulkar was dismissed on 94 runs, just 6 runs short of his century.