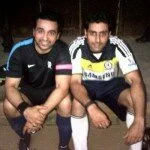 It is said that sports unite friends and foes alike. Bollywood actor Abhishek Bachchan and businessman Raj Kundra apparently got along like a house on fire at the practice sessions of a celebrity football match.
Earlier, Abhishek Bachchan and Raj Kundra had only met socially.
When media asked Raj about the time spent with Abhishek, he said, "He is a really nice guy. This is the first time I am playing in a celebrity soccer match and I hope to continue. I am glad I got to know Abhishek personally at this event. It is good to see when stars like Abhi and Ranbir Kapoor do their bits to support a charitable cause."
Raj Kundra is a London-based businessman and actress Shilpa Shetty's husband.
Moreover, Abhishek Bachchan is a big fan of the English football team Chelsea. Further, Raj Kundra even put a photo of him with the actor on the social networking site.
Abhishek Bachchan and Raj Kundra later continued their conversation on the site.