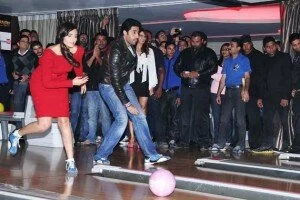 On Thursday, Golden Bowling Trophy competition was staged at the PVR BluO at the Ambience Mall in Vasant Kunj to promote the Abbas-Mustan directed mutli starres film "Player."
Bollywood actor Abhishek Bachchan and actress Bipasha Basu played with Neil Nitin Mukesh-Sonam Kapoor in a bowling competition here. They made so much delight of the large crowd that had gathered here to watch the rivalry unfold.
Abhishek didn't know much about the game, but Neil gave tough competition to him.
"Bring it on guys. I am ready to play," Abhishek roared when he kickstarted the match. On the other side most of the time Sonam hitting loose shots and later grew with fair improvement, appreciating from Bipasha, who said: