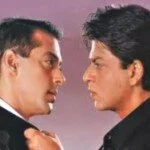 The Bollywood Dabangg Salman Khan gave blockbuster hits on Eid in past few years. His superhit films such as Dabangg, Bodyguard and Ek Tha Tiger were released on Eid.
Earlier, news have said that Salman Khan will not release his next film 'Sher Khan' on Eid 2013, and Shahrukh will release his 'Chennai Express'
But, now news have come that Salman and brother Sohail Khan had decided to make a hindi version of superhit south film Brindavanam, and the film will release on Eid 2013. And, due to this, Shahrukh has decided not to release his 'Chennai Express' on Eid.