In a much horrible, Trinamool Congress activist chopped off the ear of a gram panchayat employee in West Bengal's Murshidabad district.
As per Police reports, the employee, Hazrat Omar blamed  Chief Minister Mamata Banerjee's party for assaulting him for defying party diktat.
Omar who was absent from office yesterday due to the Bharat Bandh during two day strike called by trade union, was accosted by the assailant today when he arrived for work.
Angered TMC activist with shouts of TMC slogans whipped out a knife and slashed the employee's ear almost cutting it off.
Omar then rushed to the Baharampur General Hospital, and now is out of danger.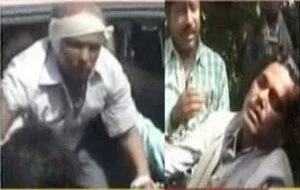 As the incident went on air, BJP and Congress are being active, criticized for such shocking incident, calling "barbaric" and a "Taliban-type" act to make TMC's goondaraj.
Meanwhile, the Trinamool has denied the entire allegation and called the man a fake one who roughed up by the political rivals.