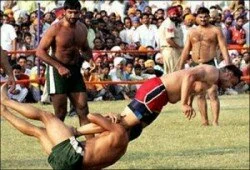 Kabbadi is the fanfare game. But question is that what's the necessity to dope in kabaddi? In Punjab, Kabaddi World Cup was ended with dozens caught in the dope net.
In the tournament, 14 countries taking part and took off in grand fashion on November 1, with Bollywood Badshah Shah Rukh Khan performing in the opening ceremony. The champions were rewarded by Rs1 crore as prize money.
However, Pakistan, Sri Lanka, Nepal and Afghanistan, each country — including India — had at least one player failing the test for banned substances.
Under testing, 200 samples were collected and sent to the National Dope Test Laboratory (NDTL) and returned positive for anabolic steroids.
The Pargat Singh, The World Cup's organizing secretary, is hardly surprised and says, "It's a common practice," "Kabaddi is huge in Punjab. There is a tournament almost every weekend and thousands of people turn up for it," he adds.
In comparison of Argentina, Sri Lanka, Pakistan, Nepal and Afghanistan all other teams are mostly made up of players from Punjab.
"It is a very startling revelation and must not be taken lightly at all, as it would rot the game even further if goes unchecked now. The main reason behind this is that kabaddi is an unregulated sport and lack of awareness among players forces them to pop pills unmindful of the consequences," NDTL's scientific director Alka Beotra says.
However, Women's kabaddi is finding its place from the last year for realize its dream of being a part of the Olympics.
But there has to be a major clean-up, not just among the officials, but also the players.
Share this:
Facebook
Digg
Reddit
Email
StumbleUpon