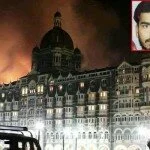 One by one more secrets of the deadly 26/11 terror attack are to be freed before Delhi Police's Special cell after arresting Abu Jindal, LeT terrorist Syed Zabiuddin Ansari alias who panned to triggered 26/11 terror attack on Mumbai.
Reports suggested, Jindal who is still in the custody of Delhi Police confirmed that that Pakistan's ISI played a major role in preparing for the 26/11 attack on Mumbai. He also gave specific information about the location of Lashkar-e-Toiba's sleeper cells in India on basis of which Delhi Police teams will be carrying out raids.
Jindal who was in the control room and a planner and informed about all moment of 26/11 attack, used each time a different name in each incident. He has linked with top operatives of other terror groups that had taken attack in the country.
Source said, Intelligence Bureau and Delhi Police officials interrogated Jindal on Tuesday during that he said he was sent to Saudi Arabia by LeT to recruit Indians living in the kingdom and raise finances.
Pakistani ISI was fully aware and involved in the planning of the 26/11 terror attacks that had helped him to use a Pakistani passport, he told interrogators, source reported.
However, Jindal's arrest is a valid move to step against terrorism and Pakistan. There are several Investigative Agency that want to interrogate him and enlighten "complete light" on what went before, during and after in Pakistan when the attacks triggered.
According to source, the Mumbai Crime Branch will now confront Jindal with Kasab, the foot soldier who carried out the attacks. It will also corroborate evidence provided by the latter with those of Jindal.
"We hope to get the custody of Jundal at the earliest so that we can grill him. We would also like to confront him with Kasab," a senior Crime Branch officer told reporters.
It was the Kasab who had told the court that one person by the name of Abu Jundal had tutored 10 terrorists on how to speak Hindi. There were 30-35 youngsters who were recruited by the LeT for 26/11 Mumbai attacks that killed 166 people, including foreigners.