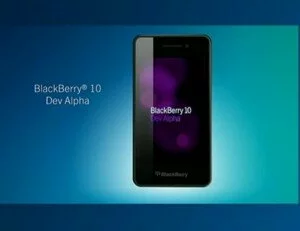 BlackBerry 10 Dev Alpha device that has recently launched by RIM at the BlackBerry World conference, will only available for developers to hands on and test drive apps.
Bringing in front the device's specifications, RIM's tablet, the Dev Alpha is being featured with 4.2-inch 1,280 x 768 pixels (WXGA) display, pixel density to 355 ppi.
The Dev Alpha, prototype software known as mini Playbook, is able to hold its own next to the Galaxy S II's Super AMOLED Plus screen and the iPhone's Retina Display and has same touchscreen form factor that of the PlayBook.
BB10 is seems to be QNX-based, running "BlackBerry PlayBook OS 10", similar features of the PlayBook OS 2.0 and made up from the same matte black material that covers the PlayBook's back. This tablet supports the microSD slot, microHDMI and microUSB ports, 16GB of non-expandable onboard storage, 1GB of RAM and a non-removable battery also.
However there is no SIM Card slot, but in subject of Connectivity, Bluetooth, Wi-Fi, Internet tethering and near-field communications (NFC), all tools are there.
With BB OS 10, users will get the new onscreen keyboard that facilitates them to input text more efficiently and also a modeling algorithm that will tailor itself as per their typing habits over time.
In addition, the toolkit includes the BlackBerry 10 Native SDK with Cascades allows developers to easily build visually stunning applications due to having graphically rich, high performance native applications in C/C++ using Qt, without to write complex, low level graphics code.
"There is tremendous interest, anticipation and momentum building toward the launch of BlackBerry 10 devices, and today we're extremely excited to release the BlackBerry 10 developer beta tools for general use," Christopher Smith, Vice President, Handheld Application Platform and Tools at Research In Motion said during launching.
RIM's final BB 10 devices, specified with processor speed, high resolution pixels and camera megapixel count seem to capture the market, beating up its rivals.