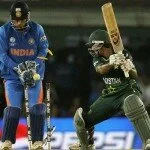 The breaking news from cricket state that the Indian cricket board has finally accepted the request made by the Paksitan Cricket Board [PCB] to postpone by a day the Twenty20 International cricket match between India and Pakistan that was expected to held at Ahmedabad on December 27.
It is said in news that the PCB wanted to postpone the match due to the fifth death anniversary of former Pakistan prime minister Benazir Bhutto falls on the same day. However, now that match will be played on December 28 and will start at 5pm.
Talking with The Indian Express, a top BCCI official said, "The PCB wrote to us that they want to postpone second T20 game as mark of respect to former prime minister Benazir Butto's fifth death anniversary. The BCCI has agreed and we have no problem in postponing the match."
Meanwhile, the Pakistan cricket team is scheduled to play 2 Twenty20 matches and 3 ODIs in the first bilateral series post the 2008 terror attack in Mumbai.
India and Pakistan will face each other in the first Twenty20 match at Bangalore on December 25 before flying to Ahmedabad. Thereafter, the two teams will play each other in first ODI in Chennai on December 30.
Further, the BCCI official said, "We still have a two-day gap between T20 and first ODI, so there was no problem in shifting the game."