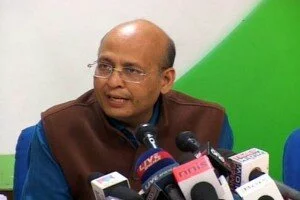 As per the latest India News, it is reported that just one day after the Bharatiya Janata Party (BJP) has approached the President Pratibha Patil on Lokpal Bill, the senior Congress leader Abhishek Singhvi on Friday took a quarry at the opposition party over the admission of controversial former UP Minister Babu Singh Kushwaha.
"BJP need not petition President on Lokpal; instead, Should create internal Lokpal to screen and admit only corrupt applicants like Kushwaha," Congress spokesperson Abhishek Manu Singhvi wrote on social blogging site Twitter on Friday.
Singhvi suggest, for screening and admitting only corrupt applicants, BJP should create an internal lokpal instead of sending a petition on the lokpal bill to the President.
Though the govt. put failure on voting in Rajya Sabha over Lokpal Bill, LK Advani, Arun Jaitley and Sushma Swaraj all were met Pratibha Patil to complain regarding this issue on December 29.
At the time when division of BJP is ahead over the induction of tainted BSP minister Babu Singh Kushwaha who is being sacked by UP chief minister Mayawati, Singhvi's tweet comes in form of fire.