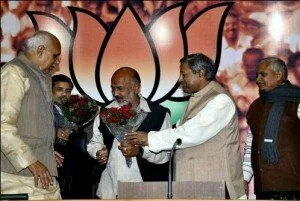 On the eve of assembly election in Uttar Pradesh on Wednesday, Party's vice-president Mukhtar Abbas Naqvi declared one of the new entrants; Babu Singh Kushwaha will not be fielded in the election. Babu Singh Kushwaha is one who raided by CBI under the multi-crore NRHM scam.
The BJP are being disagreed over tainted former minister Babu Singh Kushwaha being inducted into the party.
Although Kushwaha had entered into the BJP party just before one day when the CBI raided his house in Lucknow, now the RSS has pulled up the party president Nitin Gadkari over giving him green signal to entered the party.
However, the BJP chief refused to comment on this. Mayawati as health and family welfare minister had first wanted to throw him out of the party.
Recently as the CBI uncovered his role in the multi-crore NRHM scam in Uttar Pradesh, it is difficult for BJP to defend Kushwaha's induction.
Yogi Adityanath, BJP MP said, "How can a person be corrupt in the SP, BSP or Congress, and become honest and a 'sant' on joining our party. A corrupt person will remain corrupt. This is a mischievous move to spoil the image of the party and affect our prospects in the election. This is totally unacceptable."
Supporting Yogi, BJP leader Kirti Azad saying in a statement: "There is a lot of substance in what Yogiji has said. I am sure the party would think over the matter and rectify any mistake that may have been done."
BJP's policy move to yielding money power and muscle power that will send out a bad message among the people, if they want to stay in stage then they should take hard steps over this situation.
For party movement the former minister from Faizabad Anil Tiwari said: "We oppose this move (to induct Kushwaha). The ordinary party worker will feel let down if our leadership takes such decisions, that too during elections. It shows that the party's discipline is becoming weak."