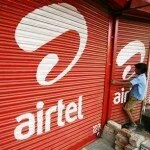 The biggest mobile phone carrier by subscribers, Bharti Airtel has recently announced reports saying that the company's 10th successive quarterly profit reported a fall.
Further, the company announced that the fall in profit is 37 percent at Rs 762.2 crore for the first quarter.
The company reported a net profit of Rs 1,215.2 crore in the same period of the last financial year.