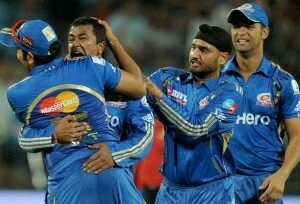 The Mumbai Indians [MI] beat Pune Warriors India [PWI] by one runs at the Indian Premier League [IPL 5] Match Played at Subrata Roy Sahara Stadium, Pune 3 May 2012 – day/night (20-over match).
It was a heartbreak match for the Sourav Ganguly led team Pune Warriors. They had got to score just 121 runs in the 20 overs on the match, which is quite acceptable in the Twenty20 format.
Earlier, Mumbai Indians skipper Harbhajan Singh won the toss and elected to bat first, they started well and were 42 without loss in the 6th over. Franklin was the first to go in the 8th over with 50runs on the board. Sachin Tendulakr was the highest scorer for his team; he made 34 runs from 35 balls with four fours.
Mumbai Indians managed just 120 runs in their limited 20over of the match, L. Malinga played some nice shorts for his team, he made 14 runs from 14 balls with one four and one huge six.
Batting second, Pune Warriors India lose opener Uthappa in the 3rd over of the match, Australian skipper Michael Clarke and Pune Skipper Ganguly too fell early, and the team was in real trouble.
L. Malinga bowled really well and adjusted Man-Of-The-match, taking two wickets in his 4 overs spells giving away 25 runs.
Scoreboard
Mumbai Indians: J. Franklin c Manhas b Bhuvneshwar 25 (23b, 3×4, 1×6), S. Tendulkar c Uthappa b Nehra 34 (35b, 4×4), Rohit (run out) 3 (5b), R. Peterson c Ganguly b Nehra 13 (14b, 1×4), D. Karthik (not out) 18 (22b, 1×4), A. Rayudu b Bhuvneshwar 1 (3b), T. Perera (run out) 0 (4b), Harbhajan c Parnell b Dinda 0 (1b), L. Malinga (run out) 14 (14b, 1×4, 1×6), P. Ojha (run out) 1 (1b); Extras (b-1, lb-3, nb-2, w-5): 11; Total (for nine wkts. in 20 overs): 120.
Fall of wickets: 1-50 (Franklin), 2-56 (Rohit), 3-81 (Tendulkar), 4-88 (Peterson), 5-92 (Rayudu), 6-93 (Perera), 7-93 (Harbhajan), 8-119 (Malinga), 9-120 (Ojha).
Pune Warriors bowling: Kartik 3-0-27-0, Dinda 4-1-34-1, Parnell 4-0-18-0, Bhuvneshwar 3-0-9-2, Nehra 4-0-19-2, Clarke 2-0-9-0.
Pune Warriors: R. Uthappa lbw b Munaf 18 (18b, 2×4, 1×6), J. Ryder c Perera b Harbhajan 9 (13b, 1×4), M. Clarke lbw b Harbhajan 14 (15b, 2×4), S. Ganguly b Malinga 16 (24b, 1×4), S. Smith b Ojha 2 (6b), M. Manhas (not out) 42 (34b, 5×4), W. Parnell c Peterson b Malinga 2 (4b), Bhuvneshwar (not out) 10 (6b, 1×4); Extras (w-6): 6; Total (for six wkts. in 20 overs): 119.
Fall of wickets: 1-20 (Uthappa), 2-40 (Ryder), 3-44 (Clarke), 4-47 (Smith), 5-94 (Ganguly), 6-105 (Parnell).
Mumbai Indians bowling: Malinga 4-0-25-2, Munaf 4-0-24-1, Harbhajan 4-0-18-2, Ojha 4-0-24-1, Franklin 3-0-20-0, Perera 1-0-8-0.
Man-of-the-match: L. Malinga.