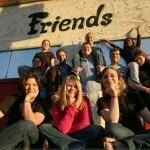 If you want to have psychological healthy behavior that influences positively your personality, then you should chat with your friends in Facebook and Twitter, as per latest study revealed.
Much far away from fact of billions of dollars deals signed by these two networking sites, people are learning better communicable way to talk with friends across the world, reduce stress with creating better understanding both face-to-face and online.
The study published in journal Science Daily on July 5, 2012 article "Like It or Not, Facebook and Friends Can Be Used to Influence Health", as per source report, a big complement for Facebook, No. 1 social networking site containing more than 800 millions users.
The study has developed by University of Southern California (USC) and on basis of that health researchers said a better understanding of human interactions via online chatting can help prevent disease and promote general health.
However, interesting thing is that health professionals appreciate it and seeking the best way on Twitter and Facebook to take positive change on people behavior by sharing important information regarding health.
"I would design different interventions for the different groups. We can do a much better job promoting healthy behaviors if we understand the social network contexts and design these interventions with those cues in mind," Dr. Thomas W. Valente, Professor of USC said in a statement.
For bringing positive changes with healthy state of mind, one have better personality if he/she will understand the social networks of the group in which he/ she belongs while charting or sharing along with dynamics of influence.