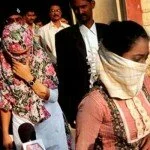 Latest news said that the two police officers of the Mumbai police has been suspended for the arrest of two girls over a Facebook post. It is said that the girl criticized the shutdown for Bal Thackeray's funeral in the Mumbai.
Further, the Bombay High Court has shifted the judicial magistrate RG Bagade, who remanded Shaheen Dhada and Renu Srinivasan in custody.
On the other hand, the state chief minister Prithviraj Chavan has defended the suspension of two police officers over the arrest of Shaheen Dhada and Renu Srinivasan regarding the bandh called for Bal Thackeray's funeral.
Talking to media, Prithviraj Chavan said, "Thane SP Ravindra Sengaonkar and Senior inspector Shrikant Pingle had acted against the directions given by their seniors while arresting the girls in Palghar. Maharashtra home minister RR Patil said SP Ravindra Sengaonkar and senior police inspector Shrikant Pingle have been suspended and a departmental inquiry ordered against them."
According to him, the department inquiry would be completed soon. RR Patil said, "SP Sangram Nishandar has been "warned in writing and reprimanded" for dereliction of duty."
He said, "Wrong sections were applied against the girls. There was no need to take hasty action (against the girls)."
However, the Shiv Sena has announced a bandh in Palghar, in the adjoining Thane district, on Wednesday in protest against the suspension.