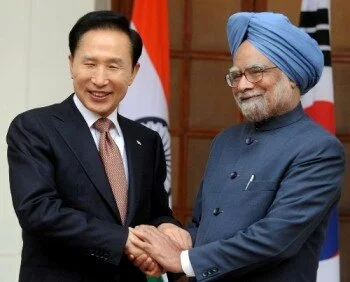 As a move to boost the relations with South Korea, India has today announced that it is ready to launch a satellite for South Korea and invited its businesses to invest in the country, mostly in the communications sector.
Talking to media, the Indian Prime Minister Manmohan Singh said, "I offered to launch Korean satellite on Indian space launch vehicle."
The Indian PM was talking to media along with South Korean President Lee Myung-Bak after bilateral talks.
Further, both the leaders showed their great interest as to boost the bilateral trade following the signing of Comprehensive Economic Partnership Agreement in 2011 and establishing a target of achieving USD 40 billion trade by 2015.
Manmohan Singh also invited South Korean firms to make their business investments in Indian market.
The two nations also inked a deal on simplifying visa procedures for the business community.
PM Manmohan Singh also wanted South Korea's help for India's desire to be a member of the Nuclear Suppliers Group, Australia Group and the Wassenaar Arrangement.
Manmohan Singh said, "India has also decided to post a defence attache at its embassy in Seoul."
Just before his talks with South Korean President Lee, Mr. Singh laid a wreath at the Memorial Tower at the National Cemetery.
Meanwhile, Manmohan Singh arrived here on March 24 for a four-day visit to attend a Nuclear Security Summit here. The two-day summit will start from Monday when world leaders will meet at over dinner.