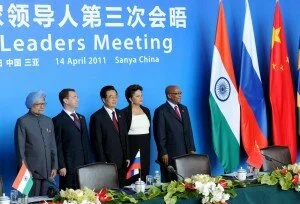 This year, the 4th BRICS Summit hosted by India with theme of 'Partnership for Stability, Security and Growth' that will held on Thursday.
Five powerful partners of BRICS – Brazil, Russia, India, China and South Africa – will arrive on Wednesday in New Delhi to attend summit, for a joint development bank in form of World Bank. The issue would be the structure of bank and capitalized.
It is expected from India over two day BRICS summit that the main point would be hold bilateral talks with China to better their trade relations that is imbalanced.
Indian official says, Chinese President Hu Jintao will arrive on Wednesday for the fourth BRICS summit, raising talks on key issues with Prime Minister Manmohan Singh during meeting.
The key issues would be need for improving global governance, enhancing trade and push for creation of a mechanism for trading in local currencies among the five-member countries.
Chinese official informed that to debate fields of international economy finance, trade and business in a gradual manner, China is ready to work with other 150 BRICS trade initiatives that would also accompany Hu.
Commerce and industry minister Anand Sharma revealed that the ambition of development banks of BRICS is a stage that put countries credit in local currencies to globally, extending the scope and market value. It results to bring their stock exchanges closer together by collaborating about half the world's people.
"There is a large untapped growth potential of intra-BRICS trade and investments which we are presently focusing on for exploitation," he further added.
Meanwhile, BRICS initiative would allow the countries to acquire resources for infrastructure improvements, helps to face long term global financial crises such as the one in Europe.
Appreciating the ambitious fact for development of the World Bank, official says, "We don't set up a bank every ordinary day."