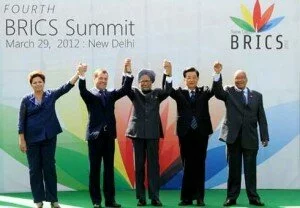 Global multilateral institutions as developing the next World Bank was the top agenda of BRICS summit, but top member nations on Thursday criticized the West for financial mismanagement.
They declared dialogue of BRICS was based only on current events like a peace plan in Syria and Iran, a complete lack of objective statements that they contracted to push trade and credits in local currencies under the BRICS Interbank Cooperation Mechanism in reforms of International Monitory funds.
In every financial year, trade among Five members hit at 28% annually, around $230 billion and would be extend $500 billion by 2015. Supporting the financial object, India wants well structured and globally development of World financial bank to resolve crisis, address global challenges together and contribute to furthering world peace, stability and security.
But for five nation's initiatives of BRICS reason behind to sit across table is to discuss current issues, finding relevant solution with a number of suggestions. "World development bank" funda has never seen strong impact in debate, an official said, "The views were more non-West, than anti-West".
They declared, "Global interests would best be served by dealing with the crisis through peaceful means that encourage broad national dialogues…"
A great support for Iran's right to peaceful uses of nuclear energy has given by BRICS as declaring a well diplomatic resolution in accordance with the provisions of the relevant UN Security Council Resolutions.
Expressing much need of humanitarian assistance for Afghanistan, they observed, it needed "time, development assistance and cooperation, preferential access to world markets, foreign investment and a clear end-state strategy." And for that initiatives planned to meet before UNGA every year like other financial meeting.
Top economics frustrated with Western economic leadership expressed slow progress at giving self control over the International Monetary Fund in hands of developing nations.
Structuring their own bank, weak financial nations can be reducing over time the bloc's dependency on the U.S. dollar, the world's reserve currency, avoiding the West's loose monetary policies for causing financial crisis. Amongst all, the largest economy nation China showed a greater stand at the IMF likely to beat the U.S. dollar and euro with its currency, the renminbi.
Indian economics doubted the BRICS Bank idea behind to legitimate the use of Chinese currency overseas as China manipulating its own currency.
PM expressed well focus on "the important issue of expanding the capital base of the World Bank and other multinational development banks to enable these institutions to perform their appropriate role in financing infrastructure development."
All in All, there is no power in one hand on one main point amongst five nations. China wants its own institute, South Africa supports the issue of World Bank, Russia declared diplomatic crisis, while Brazil refused to support Bank as already funded the Latin American development bank. Only India stands for changes in structure of Bank that in slow pace.
Tagged as: Brazil, BRICS Summit, business, China, Featured, India News, Interbank Cooperation Mechanism, International Monitory Fund, Manmohan Singh, NTN, Prime Minister, South Africa, UN Security Council Resolutions, World Bank

Published by Himmat Mehra in: Business
If you like this blog please take a second from your precious time and subscribe to my rss feed!