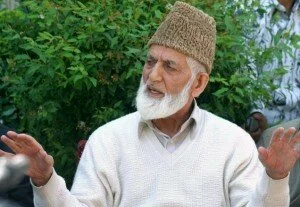 Hardline Hurriyat leader Syed Ali Shah Geelani has recommended the name of one of the two suspected Lashkar-e-Taiba militants who were nabbed by New Delhi on Wednesday at a railway station for a Pakistani visa, reportedly said by Delhi Police official.
Talking to media, Home Minister P Chidambaram said that Duo were planning to bomb a crowded area of Delhi as bomb-making material including wires, flash powder used in crackers and sulphuric acid has recovered from Malik.
Shocking fact was that the name of national agencies and a couple of state police forces and two people were also declared to be involved in this jointly carried out operation.
But as per Chidambaram, all accused were arrested by the Delhi Police in coordination of intelligence by police of Jammu and Kashmir and Jharkhand.
On basis of papers seized from Ahtesham Malik, 24-year-old suspected militant, it showed that he had a visa recommendation by Mr Geelani. Malik had gone to Pakistan in December last year, training in explosives and to learn how to assemble Improvised Explosive Devices (IEDs).
Some videos were also recovered from both men that had been trained in Pakistan, showed how to assemble bombs.
The twist was that there was a third suspect, Pir Mama, with the tip off whose the two suspects were arrested. Mama was earlier arrested on Thursday in Jharkhand and after that handed over to Delhi Police team on two days' transit remand by a court in Ranchi.
Being clarified awareness of Peer regarding the plans of the two Lashkar-e-Taiba (LeT) militants, the Police official informed that a LeT-sponsored module was planning to carry out explosions in crowded areas of the national capital instead of targeting VIPs as per their earlier estimated statement.