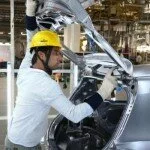 According to latest reports, Maruti Suzuki India is now planning to avail low-cost houses to around 5000 worker as the company aims to improve their relations with their workers.
Meanwhile, the car manufacturer company was recently hit with violence in July this year left several injured and one killed at its Manesar plant. Though, the company has already increased the salaries of its workers by an average Rs 18,000 per month.
Talking to media, Maruti Suzuki India (MSI) Chief Operating Officer (Administration), S.Y. Siddiqui said, "We will set up an Employees Cooperation Committee to look after various issues, mainly accommodation related, affecting the workers and their relationships with the management. The committee is likely to be established by December this year."
According to him, the company now plans to offer low-cost houses to 5000 workers.
He said, "However, till the committee is formed, the company will take the initiative in acquiring land and starting preliminary work. Once the committee is in place, we will hand over the responsibility to them."
However, he had now revealed any information about how much land the company will buy to built houses and other investments.
He said, "By middle of October, we will finalise the location, how much land to be acquired, investment size and other details."
But, he added that flats will be offered on self financing basis to workers. He said, "At the end, the workers will own the flats… These will be offered to both Gurgaon and Manesar plant staff."