With a major setback, Social activist Anna Hazare all set to launch his nationwide anti-graft campaign 'Jantantra rally' on Wednesday, following the vision of JP's anti-graft movement 'total revolution' against corruption.
Jantantra rally will be started by Mr. Hazare from Gandhi Maidan in Patna tomorrow, the birthplace of Jayaprakash Narayan, legendary socialist leader of JP anti-movement.
Just a day ahead of rally, ensuring a strong and new phase of Jantantra Rally, Anna said that his fight against rampant corruption would resume with this rally, fulfilling vision of JP and Gandhiji with other issues such as decentralisation of power to the Gram and Mohalla Sabhas.
In an attempt to bring a complete transformation system, a struggle is being started to change this system, Mr. Hazare further added.
"I am glad that our movement is rejuvenated now. It was necessary to dispel all doubts over the movement. Our movement was never disrupted because of the split. Everybody wants to join our movement", he told reporters.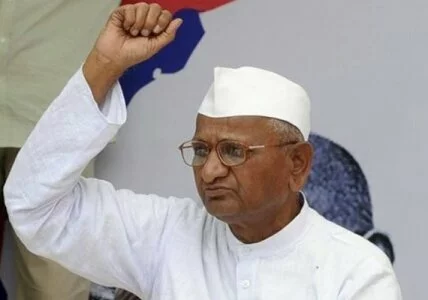 While asking about the split issue with the former 'Team Anna' member and India Against Corruption (IAC) activist Arvind Kejriwal, Mr. Hazare cleared that there was no roadblock for his movement.
Reports said that in form of his nationwide movement, Hazare would hold four sabhas in four States and also tour every other State starting from February.
Targeting Congress, Hazare told reporters that there were several influential sections who never want corrupt-free India, always trying to spoil his movement with hook and crook.
On Monday, Congress chief Sonia Gandhi wrote a letter to Anna, ensuring that the Lokpal Bill would be passed in the upcoming Budget Session of Parliament.
However, Anna has dismissed that letter and said that now he had no faith on UPA led Congress govt as described it just a betrayal with empty promises.