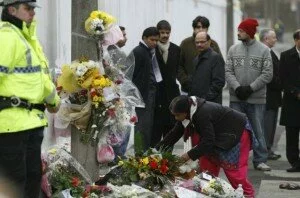 Completing all the legal procedure over Anuj Bidve's dead body, now the family of murdered Indian student Anuj Bidve is set to fly back with it to Pune.
A source reportedly said, the Anuj's body funeral is being done in Pune his home city on Saturday evening.
The family was shattered as they heard the news of their only son being dead. It was likely incomprehensible loss.
However they hoped that british man who is responsible for the "senseless" killing of their only son would be brought to justice.
As Anuj's family came back India with his dead body, they explained their proposal to Media to send their only son in UK, that they had chosen to send their son to the UK, preferring the European nation over other destinations like the US and Australia, believing it would be the safest for him.
"There are no words, the world is finished for us, this is what I can say," Subhash Bidve, the father of the 23-year-old, told reporters in Salford, as his wife stood with him, silently wiping off her tears.
Although they appreciated the support given by people and both country the UK and India, they were also optimistic about the British police that were handling of the case.
However The Greater Manchester Police visited Pune for giving support to Bidve's family and they did their wonderful job regarding this case.
The parents of slain Indian Student Anuj, visited the place Ordsall Lane in Manchester where Bidve was shot in the head at close range on December 26 as he walked along Ordsall Lane with friends .Anuj was a postgraduate student of Microelectronics at the Lancaster University.
The British Police has arrested a 20-year-old Britain youth, called "Psycho Stapleton" against the Anuj's murder. He has remanded in custody till any order has not been come out from a plea and case management hearing on March 20.