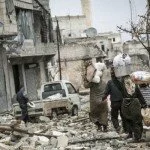 Bashar al-Assad government forces have fired Scud missiles against insurgents, one of the biggest and deadly attempts to oust in recent days, seeking to overthrow the regime, according to latest reports.
The 21-month-old conflict between Syria troops and Rebels moved dangerous phase while repeatedly several fierce missiles fired from the heart of Syria, Damascus into northern Syria.
Still no information that whether chemical weapons were used in missiles or not, officials told reporters.
As per media information, US State Department spokeswoman Victoria Nuland said that they were seeing missiles employed then but refused to identify the type of missile.
He further added that Syria was also using another kind of "egregious weapon" that contains flammable materials.
The Missiles warfare coincided with Arab and Western states recognised the 'National Coalition', the strong Syrian opposition Coalition at a "Friends of Syria" meeting in Morocco that move towards greater humanitarian assistance to the forces battling to oust Assad's regime.