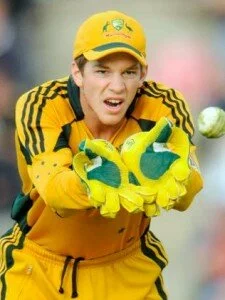 As per the fresh sports news,  Australia's back-up wicketkeeper Tim Paine was Wednesday named out for the summer, as officials told media that the player will now undergo surgery on a fractured finger immediately.
While talking to media, an official from Cricket Australia said, "The Tasmanian wicketkeeper and batsman's battered right index finger will rule him out of availability for the next three to four months."
Cricket Australia doctor Trefor James said, "Tim Paine's recovery from surgery for a fractured finger has been slower than expected."
Further, Mr. James said, "It is clear that the fracture has not healed as expected and the best course of action is for Tim to undergo further surgery."
Earlier, it is said in reports that Tim Paine's right index finger was broken during a Twenty20 match in Brisbane in November last year when he was struck by a rising delivery.
Meanwhile, Tim Paine had started his cricketing career with his Test debut against Pakistan in July 2010 and has been touted as a future Australian captain, comes ahead of the series against India and with Australia's batting order struggling for form.
"I'm obviously disappointed with this latest setback," Tim Paine, who is the established fill-in for wicketkeeper Brad Haddin.
He said, "I am hopeful that I can get the injury right and recover fully so that I can get back to playing cricket in the near future."