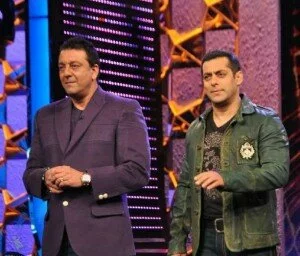 The Bigg Boss season 5 has come to an end after a 98 long days journey is being ended today. The stage for Bigg Boss season 5 grand Finale is all set to host a bevy of stars.
All the Ex-contestants, famous Bollywood stars and filmmakers will be present that make the grand finale like a gala event.
The most sizzling Malaika Arora will perform in her famous Munni song and also act on her other hit numbers like 'Hoth Raseele' and 'Chaiyya Chaiyya'.
Sunny Leone, who has recently offered Mahesh bhatt's "jism 2" movie, set to make her Bollywood debut, will dance to 'Saadi Galli' and 'Jugni'.
Shakti Kapoor, the Villan of Bollywood Movies, will be seen gyrating into some popular numbers with some beauties.
Along them the contestants from the previous seasons of 'Bigg Boss' like Rakhi Sawant and Dolly Bindra , will also invited on the show and will talk about their experience while they were inside the 'Bigg Boss' house.
Beside them, Pooja Bedi and Pooja Missra who participated in Bigg Boss-5, has been banned from the grand finale.
However Juhi Parmar, Mahek Chahal, Sidharth Bhardwaj, Amar Upadhyay and Sky Wlker are enlisted for finalists, who are keenly waiting for the result after spending 98 long days inside the 'Bigg Boss' house.
The winner will get to take a whopping Rs 1 crore as the winning amount. Everyone is waiting to know the finale result and eager to watch as to who walks away with the grand prize.
A report has revealed from the Mumbai Media that for promoting film 'Ek Main Ekk Tu' Karan Johar and Imran Khan will come on the show. Karan has also planned to have a cup of coffee with hosts Salman Khan and Sanjay Dutt in a special segment.