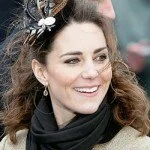 Latest entertainment news states that Kate Middleton has been voted as the perfect Bond girl in a public poll.
Meanwhile, the public poll was conducted as a move to find the ideal female character for the 007 movies.
Kate Middleton also known as Duchess of Cambridge Catherine is Prince William's wife. Kate Middleton saw off competition from pop stars Rihanna and Beyonce Knowles in the poll. The poll was reported by dailystar.co.uk.