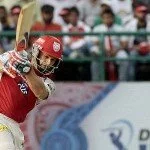 The 66th match of the Indian Premier League played between Chennai Super Kings and Kings XI Punjab, has resulted with a win for Kings XI Punjab by 6 wickets over the defending champions.
The IPL 5 match of Kings XI Punjab vs Chennai Super Kings was played at Himachal Pradesh Cricket Association Stadium, Dharamsala 17 May 2012 – day/night (20-over match).
Earlier, the regular skipper of the Kings XI Punjab, Adam Gilchrist won the toss and elected to bowl first. Gilchrist made a comeback in yesterday's game, and he showed his class straight away with a match winning 64 runs not out knock.
However, batting first CSK never looked in control, lost wickets at regular intervals. None of the batsman from CSK looked in good touch, though a valuable 48 runs were scored by Dwayne Bravo. CSK managed just 120 runs in 20overs.
The run-a-ball chase is not a tough job KXIP, Adam Gilchrist expressed his intentions with the first ball he faced, and he made 64 runs from 49 balls with nine fours and three big sixes.
KXIP reached the total in the 17th over the match, with this win; KXIP is still alive in the IPL 5.
Presentation:
CSK skipper MS Dhoni, "Not trying to score too many, bowled really well, their lengths were good and whenever we tried to get out of the situation, they got the wickets. Watching the next few games will not change anything, let's wait and watch."
KXIP skipper Adam Gilchrist, "Good to take field, one of those days when Chennai batsmen nicked all of them, all of them straight-forward catches. There was a guy badly injured, so no big deal about not taking the third run (Srikkanth Anirudha incident). We need to win our game against Delhi and await some other results too."
Gilchrist is also the man of the match for his all-round performance, catches, runs and a win as a captain.
Scoreboard:
Chennai Super Kings: M. Vijay c Gilchrist b Praveen 10 (14b, 2×4), M. Hussey c Gilchrist b Praveen 7 (10b, 1×4), S. Raina c Gilchrist b Mahmood 17 (12b, 2×6), M.S. Dhoni c Saini b Awana 6 (16b, 1×4), D. Bravo c Gilchrist b Harris 48 (43b, 2×4, 3×6), R. Jadeja c Saini b Awana 13 (14b, 2×4), A. Morkel c Praveen b Mahmood 14 (8b, 1×4, 1×6), S. Anirudha (not out) 1 (1b), R. Ashwin (not out) 0 (1b); Extras (b-1, lb-2, w-1): 4; Total (for seven wkts in 20 overs): 120.
Fall of wickets: 1-17 (Vijay), 2-20 (Hussey), 3-42 (Raina), 4-46 (Dhoni), 5-78 (Jadeja), 6-112 (Morkel), 7-119 (Bravo).
Kings XI Punjab bowling: Praveen 4-0-18-2, Harris 4-0-24-1, Mahmood 4-0-28-2, Awana 4-0-12-2, D. Hussey 3-0-23-0, Chawla 1-0-12-0.
Kings XI Punjab: A. Gilchrist (not out) 64 (46b, 9×4, 2×6), Mandeep Singh b Morkel 24 (21b, 5×4), N. Saini c Dhoni b Bravo 1 (4b), D. Hussey c Dhoni b Bravo 9 (9b, 1×4), S. Chitnis c Dhoni b Hilfenhaus 11 (12b, 1×4), A. Mahmood (not out) 9 (7b, 2×4); Extras (lb-3, w-2): 5; Total (for four wkts in 16.3 overs): 123.
Fall of wickets: 1-51 (Mandeep), 2-55 (Saini), 3-69 (Hussey), 4-114 (Chitnis).
Chennai Super Kings bowling: Hilfenhaus 4-0-20-1, Morkel 3.3-0-28-1, Ashwin 4-0-27-0, Bravo 3-0-18-2, Yomahesh 2-0-27-0.
Man-of-the-match: Adam Gilchrist.
Umpires VA Kulkarni and SK Tarapore
TV umpire BF Bowden (New Zealand)
Match referee RS Madugalle (Sri Lanka)
Reserve umpire VK Sharma