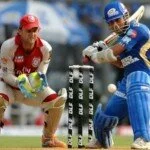 The Mumbai Indian is all set to face Kings XI Punjab in the 28th match of the India premier League Played at Wankhede Stadium, Mumbai 22 April 2012 – day/night (20-over match).
There is good news for Mumbai Indians, master blaster Sachin Tendulkar has been declared fit and is expected to play int eh IPL match today against Kings XI Punjab. The master blaster injured his finger during the very first match of the IPL 5 against defending champions Chennai Super Kings.
While talking to media, Mumbai Indians coach Robin Singh said, "He's fine to play and is playing tomorrow."
Earlier, Sachin was hit on his finger during net practice and there were no fresh reports of his playing in today's match. However, Sachin later joined the practive session along with Mumbai Indian fielding coach Jhonty Rhodes.
Robin Singh said, "He just got a small hit on the finger. He's playing tomorrow."
Meanwhile, Sri Lankan bowler Lasith Malinga will miss the IPL match today, as he went back to Sri Lanka to get treatment for a sore back but Robin Singh said that the bowler is expected back next week.
Robin Singh said, "He has got a sore back but he will be back early next week."
Teams:
Mumbai Indians squad
Harbhajan Singh*, AN Ahmed, Amitoze Singh, AC Blizzard, YS Chahal, JEC Franklin, HH Gibbs, DJ Jacobs, MG Johnson, KD Karthik†, Kuldeep Yadav, DS Kulkarni, RE Levi, CJ McKay, SL Malinga, SH Marathe, SS Nayak, PP Ojha, MM Patel, NLTC Perera, RJ Peterson, KA Pollard, AT Rayudu, JN Shah, RG Sharma, R Shukla, RP Singh, TL Suman, P Suyal, AP Tare, SR Tendulkar, AV Wankhade, SA Yadav
Kings XI Punjab squad
AC Gilchrist*†, P Awana, KJ Abbott, L Ablish, Amit Yadav, Azhar Mahmood, BA Bhatt, Bipul Sharma, PP Chawla, SD Chitnis, BCJ Cutting, P Dogra, JP Faulkner, Gurkeerat Singh, Harmeet Singh, RJ Harris, DJ Hussey, P Kumar, VS Malik, Mandeep Singh, SE Marsh, AD Mascarenhas, DA Miller, AM Nayar, RR Powar, NJ Rimmington, N Saini, SJ Srivastava, Sunny Singh, PC Valthaty
Umpires S Ravi and RJ Tucker
TV umpire JD Cloete
Match referee Raju Mukherjee
Reserve umpire PG Pathak