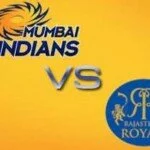 The two big teams of the Indian Premier League will play against each other today.
Rahul Dravid lead, Rajasthan Royals is all set to face Harbhajan Singh's Mumbai Indians in the IPL 5 match today which is played at Wankhede Stadium, Mumbai today [11 April 2012] day/night (20-over match).
Rajasthan Royals are high on confidence as they won two matches in a row and now aiming for their third win in the DLF IPL 2012.
Skipper Rahul Dravid is quite happy with the performance of its young guns in the last two matches. Till now, Ajinkya Rahane is the star performer for the team, and Rajasthan has high hopes from him today as well. Read the rest of this entry…
Comments Off