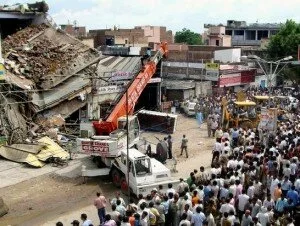 As per the latest reports from New Delhi, another major incident took place as a building collapse here today morning.
Today, in the national capital of the country, by a LPG cylinder explosion a building has collapsed, killing five people and four others injured.
Talking about incident, the police said that the incident took place in Railway Colony in Mundka of northwest Delhi at 7:25 am when some of the laborers were engaged in cooking.
When the blast made, the one story building was weak and collapsed soon.
As soon as possible the fire brigade has reached the site with five brigade personals and launched rescue and relief efforts.
The number rate of affected people was nine; five were killed among them today and remaining four was injured when the roof of a building collapsed after a gas cylinder exploded.
However the injured has been admitted to the Sanjay Gandhi Hospital for their medical treatment after the blast had made.