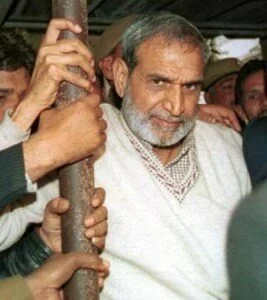 In yet another fresh reports issued by the country's intelligence agency, CBI, it has blamed Congress leader Sajjan Kumar for organizing the Sikh riots in 1984.
In a reports issued by the CBI today states that Congress leader Sajjan Kumar went about rabble-rousing mobs and that the killings in the Delhi cantonment area in 1984 were not spontaneous.
The reports also states that Sajjan Kumar allegedly told gangs: "Not a single Sikh should survive" as per told to TV media by the CBI.
While talking to media, an official from CBI said, "People of a certain community were targeted and that the riots were well-organised and backed by both the government and the police."
On 12 April, the CBI had submitted a Delhi court of statements of eye-witnesses who had identified Sajjan Kumar, facing serious allegations for his alleged role in a 1984 anti-Sikh riots case, as the person who was instigating a mob during the carnage.
Meanwhile, Congress leader Sajjan Kumar and five others, Balwan Khokkar, Kishan Khokkar, Mahender Yadav, Girdhari Lal and Captain Bhagmal, are being named as the main accused in the killings of six people at Delhi Cantonment during the 1984 anti Sikh-riots.
Further, CBI said that they have found guilty of instigating a mob to kill Sikhs in the wake of the assassination of former Prime Minister Indira Gandhi on October 31, 1984.
Earlier, Kaur had marked in the court Sajjan Kumar and three others as the persons who had allegedly instigated mobs during the 1984 anti Sikh-riots.