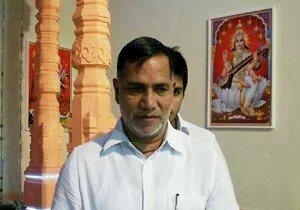 On the direction of Bombay High Court, the Police arrested Former Mumbai Congress President Kripashankar Singh allegedly in the case of disproportionate assets.
All the properties that Singh and his family reportedly own including a bungalow, seven flats and hundreds of acres of land, all are seized by SIT for investigating high profile untraceable assets.
Answering the questions of Media reporters over his untraceable matter, Kripashankar said he was not running away.
He said, "Law will takes its own course, I am not running away, I am innocent. I will fight my battle in court."
On earlier Friday, The Special Investigation Team (SIT) in Mumbai started its process of attaching the MLA's properties across the city after the Supreme Court dismissed to give relief to Kripashankar Singh in the untraceable assets case.
Team of SIT officers raided on various locations where 19 properties belonging to Kripashankar and his family are located. Several documents have been seized by SIT that show a huge amount of properties has owned by Kripashankar and name of his family members.
On basis of the Income Tax Department's scrutiny report, Kripashankar's wife earned at least Rs 2.6 crore in four years without having known sources of income.
Meanwhile, Kripashankar now facing toughest time in this year and it may be making tougher as a further case of hidden sources of income and tax evasions by opening around 22 bank accounts of his family could also file against him.
Tagged as: Bombay High Court, Congress, Congress leader Kripashankar Singh, Featured, high profile untraceable assets, India News, Kripashankar Singh, Mumbai, NTN, SIT, Special Investigation Team, Supreme Court

Published by Himmat Mehra in: General News India News
If you like this blog please take a second from your precious time and subscribe to my rss feed!