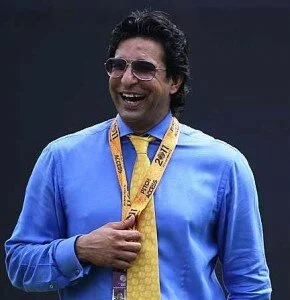 The latest cricket news state that the former Pakistan fast bowler and captain Wasim Akram has supported Indian captain Mahendra Singh Dhoni's so called rotation policy, saying that there is "good reason" after such rotation policy as it shows that either "not in his control" or they have become a "liability".
MS Dhoni's comments over senior players slow fielding has been highlighted by media in the past.
While talking to media, the former Pakistani Captain said, "In my opinion, Dhoni is a very intelligent person and I totally agree with him because he says what he thinks. There must be a very good reason behind his comments. I have never heard Dhoni speaking in such a manner."
Further, Wasim Akram said, "I think either the seniors are not in his control or they are a liability."
According to Wasim Akram, master blaster Sachin Tendulkar and Virender Sehwag will have to be physically fit to keep themselves in the Indian ODI team.
He said, "As the grounds are big in Australia, players have to be in the best of their health to play. Nobody questions Tendulkar's fitness, either you see him fielding at short third-man or fine-leg. You can hide your fielders in Test and T20s but not in ODIs."
When asked about the role of Coach Duncan Fletcher in team India, Wasim said, "If I am the coach, I will send the best batsman to open the innings. Gautam Gambhir has scored in 90s twice in the series so far and he is the best opener available. It is up to the team management to decide who will be his opening partner."
He said, "That will also give you a left hand-right hand combination. In the match against Sri Lanka we saw both the out-of-form batsmen opening the innings and your best is coming at No. 3. So, what is the use of keeping a coach when he is not able to decide?"