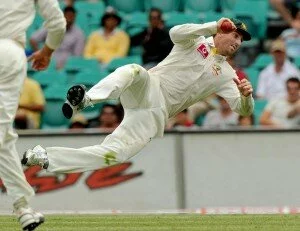 According to the latest cricket updates, India has lost the second test match by an innings and 68 runs here at the SCG against the Australia cricket team.
The master blaster from India Sachin Tendulkar once again missed the historic 100th International century as he was out on 80 individual score int eh second innings against the home side.
Meanwhile, the Australia team is now leading the four test match series by 2-0 lead.
In the first test match played at MCG, India lost the match by 122 runs.
Further, batting started from their overnight score of 114 for 2 wickets, India cricket team was bowled out for 400 runs.
In the meantime, some good batting performance was shown by the Indian batsman, Gautam Gambhir (83), Sachin Tendulkar (80), VVS Laxman (66) and Ravichandran Ashwin ( 62).
However, the most successful bowler from the Australia side was Ben Hilfenhaus, as he captured 5 big wickets from the Indian side, claiming Virender Sehwag, Rahul Dravid, Laxman and Mahendra Singh Dhoni as his victims for figures of 5 for 106.
Talking to media, Indian captain MS Dhoni said, "We were down in the first session on the first day. A few batsman got out to good deliveries. It was very difficult to contain Clarke. We can beat this team in Perth."
Moreover, the winning captain and the man of the match winner, Clarke said, "It was a tough wicket to take 10 wickets but our bowlers were brilliant. I've spoken about consistency and our guys are doing that now. In any team you need experience and youth and I think now this Australian team has it. I was as relieved as Punt (Ponting). His attitude around the group has been exceptional. It (Sachin's wicket) is a very handy one to have."