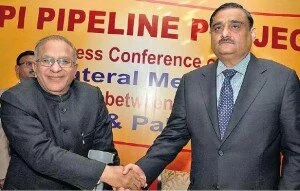 As like oil pipeline agreement with Iran, now oil Minister of India and Pakistan agree on the same deal to make transit of gas at a uniform transit fee for it from Turkmenistan.
However both are agreed on the proposal of $7.6-billion Turkmenistan pipeline that decision taken after hold a meeting between S Jaipal Reddy and Pakistani minister Asim Hussain yesterday.
After this deal processing India should be able to export petrol, Diesel and other petroleum products to Pakistan that should ensure help in the economic growth of country on both sides.
Pakistan only imports Petroleum products from private providers mainly Kuwait and Saudi Arabia which offer discounts and delayed payment facility. The deal with India will open the Pakistan Gates for it, but not for Islamabad that does not allow for importing Indian Oil.
While talking about guarantee, Oil Minister, Jaipal Reddy said, "India mooted the proposal of exporting petroleum products, including diesel and petrol, to Pakistan. They have shown interest. It is ready to offer petroleum products supply to Pakistan and even build a pipeline to carry the same provided the neighbouring country give long-term offtake guarantee."
As per report the 1,735-km-long pipeline will run in Pakistan by reach at Multan via Quetta before entering India at Fazilka in Punjab.
Pakistan accepts proposal on the same transit fee that negotiated by India while contracted with Afganistan "in line with international practices". Now India has to pay a transit fee to both for getting its share of 38 million cubic metres per day of gas.
So the deal is between three countries (Afghanistan, Pakistan and India) to agree to it (uniform tariff) that is subject of approval by competent authorities in both the governments.
This deal if proceed then it will help to enhance economic growth of both countries along with building good cooperative relationship that is really needed at this time.