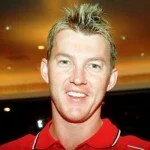 The former fast-bowler from Australia, Brett Lee has recently said in an interview that Sachin Tendulkar should retire as per will.
The Australian bowler added that Sachin Tendulkar's retirement plan should be left to Sachin's decision.
Lee was sharing his views with media, he said, Sachin should not be excessively pestered with the question.
Brett Lee said, "Look, I think on a serious note Sachin will know when the time is right.