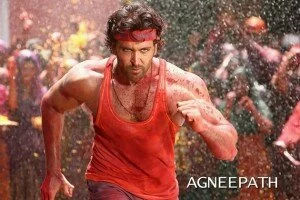 According to the fresh Entertainment News, filmmaker Karan Johar has reportedly sold the satellite rights of his upcoming film Agneepath at a whopping cost of Rs 41 crore.
This all happens, hours after the theatrical release of Hrithik Roshan starrer Agneepath, Filmtrac (audience tracking) and TradeTrac (tracking tradewallahs) saw a most important point.
In addition to this, reports have said that by considering the film tracking data this is just the beginning the film is likely to hit the magical Rs 100cr mark.
The film, Agneepath, is also rated as the highly awaited film of next year.
As per the survey conducted by Twitter poll done by Ormax Media , Agneepath scored 30, followed by Yash Chopra's directorial project with Shahrukh Khan, Ek Tha Tiger, Dabangg-2 and Rowdy Rathore.
While talking to media, Trade journal editor Vajir Singh said, "By virtue of the fact that the film comes in the first month of the year and because it has bankable names in it, is on top of the list of the most exciting films of next year."
The director of the film, Karan Johar has reportedly topped the satellite rights for Agneepath. The film has been sold out for Rs 41 crore, which is the highest ever in the history of Bollywood.
Further, Trade analyst Taran Adarsh said, "I'm not shocked with this piece of information or the reported price because as I said earlier Hrithik's movie rights including that of Kites was picked up for a huge amount. The actor is one of our most dependable superstars and obviously there is a rush to buy the rights of his movies. To me, the month of January is looking exciting because of Agneepath."