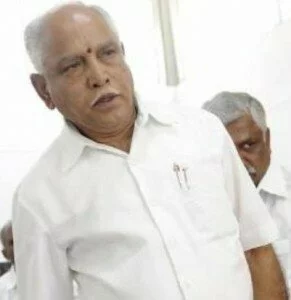 As B S Yeddyurappa's want to grow with return in the Parliament as Karnataka chief minister fields BJP a situation in which difficult choice has to be made because they can't disappear the claim of the Tailor of party.
A huge amount of supporters with 70 MLAs have lightened the full chances of Yeddyurappa's return as CM. He has field in a resort along with his camp on the outskirts of Bangalore.
48-hour deadline have given to legislature party members to take decision without any further delay and formally electing him as the leader must be complied with.
BJP is under pressure whether to allow present CM Sadananda Gowda to present the budget on Wednesday or ready to accept resignation of Yeddyurappa along with 70 MLAs.
BJP chief Nitin Gadkari asked Yeddyurappa to be "Patient", insisted "no decision will be made under pressure". "People should have patience and cooperate with the party which will take a decision soon. But the BJP will not take any decision under pressure," Gadkari said.
Over all decision is depending on Rajya Sabha polls that will held on Monday in which Yeddyurappa's loyalist BG Puttaswamy, the political secretary to Karnataka chief minister DV Sadananda Gowda has holed up in the battle of the Rajya Sabha polls against BJP's official candidates Basawaraj Patil Sedam and R Ramakrishna.
Later after being suspended from the party's primary membership and issued show-cause notices to 10 BJP MLAs who signed Puttaswamy's nomination papers, he filed his papers as the third independent candidate.
Moreover, power is on hands of Yeddyurappa on basis of who's saying followers submitted their resignation copies to him, asking alter the dates as and when required to submit them to the Center in case of failing his demand.
Gadkari meanwhile, is facing a crisis and have no affective support from central leadership. Rejecting the Yeddyurappa camp's demand, he said it is much better to face elections for making decision than the pressure tactics of Yeddyurappa.
In July 2011, High Court ordered Yeddyurappa to quit the chief minister's post under charged of illegal mining, indicted by a Lokyukta report.