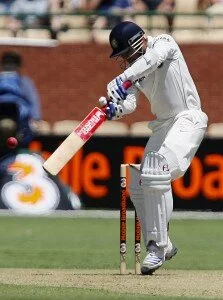 As per the latest cricket updates, the super power of Indian cricket team, Virender Sehwag started his Australia tour with a sparking fifty.
The opener from India hit some superb cricketing shots to reach hit fifty against Australia at the MCG stadium on the second day of the Boxing Day of the First test match here today.
Earlier, India lost their other opener Gautam bambhir lost his wicket, when he was batting on 3 runs. Gautam tried to play the ball coming outside the off stump, giving Ben Hilfenhaus his first scalp of the summer.
The scoreboard read just 22 runs with the loss of one wicket when 'The Wall' Rahul Dravid walked out to bat with Shewag.
The Indian team was 6/0 at lunch on the second day of the first Test, trailing Australia by 327 runs.
Prior to this, the host team were bowled out on 333 runs R Ashwin rattling the middle stump of Nathan Lyon on 6 individual score. The lower order batsman from Australia team could not prove much helpful for their team this time.
The Indian bowling attack looks sharpe on the target and they soon managed to get all the home side out, but the center of attraction is the little master from India, Sachin Tendulkar, as everyone is waiting for his 100th hundred
The front head bowler from India, Zaheer Khan made his presence felt at the center today morning, he took the important wicket of Peter Siddle (41) to get the tailenders on the turf. Zaheer Khan took four wickets on the opening test match here today.
Zaheer Khan also bowled out the Australian wicketkeeper Brad Haddin with 27 individual score with a full and angled across delivery, which drove away from his body, and Virender Sehwag at gully took a neat low catch.
So, the till now the first day of the Boxing Day Test is good for Indian team, Umesh Yadav and Zaheer Khan showed some superb bowling and from the home side, opener Cowan hit 68 runs with Ponting hitting valuable 62 runs.