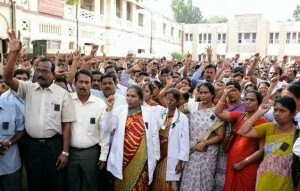 Another strike goes on in Chennai inside the Coimbatore Medical College Hospital (CMCH) premises from Wednesday.
There are more than 500 medical practitioners at the 43 Primary Health Centres (PHCs) in the district worked wearing black badges, the house surgeons and post graduate students are also included in it, demanding protection of medicos while they are on duty.
Because of all medicos off from their duties, the Patients has left unattended in out-patient wards, planned surgeries has postponed and only emergency cases are attended.
In fact all such issue has arisen over their solidarity to protest the murder of Dr. Sethulakshmi in Tuticorin who was killed by a patient's husband and his gang on Monday night. However in front of Medical Superintendent Room all the medicos gathered to condole the killing of Dr. Sethulakshmi.
Claiming that innocent doctors in CMCH were continuously attacked by patients or their relatives and called for providing additional security at the premises, they told the government that it should provide protection to the medicos while they were on duty.
Later they took out a rally from CMCH to the Collectorate to present a petition to the Collector.
It was unfortunate that Tuticorin South police did not take the complaints of threat made by the accused to Dr. T. Sethulakshmi, two days prior to her murder, seriously, N. Saroja, treasurer of Tamil Nadu Government Doctors' Association, said.
Highlighted the doctors' best performance , she added, "Casualties could happen in the medical profession despite the best efforts of doctors due to various medical reasons and hence, it has been wrong from the part of the accused to blame the doctor, Mrs. Sethulakshmi, for the death of his wife and the foetus."
Resulting in a fast mode over the decision for punishment of people who involved in the attacks on hospitals or on doctors, Doctors said, "Higher conviction can reduce such heinous crimes."