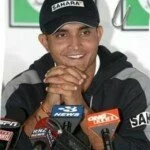 The former Indian cricket captain Sourav Ganguly believes Gautam Gambhir is now ready to lead the Indian Cricket team in the test matches.
Sourav Ganguly said during an interview that Gambhir is ready to take over from MS Dhoni as captain of the Test team after he led Kolkata Knight Riders to their first-ever IPL title in IPL 2012 finals against MS Dhoni's Chennai Super Kings.
In the meantime, Sourav Ganguly was part of the commentary panel on India's tours to England and Australia in 2011-12, and Ganguly believes that MS Dhoni has not done much as team India's test match captain during these tours.
Sourav Ganguly said, "As I've always said, there will be a question mark over Dhoni as a Test player. But Gambhir is an obvious choice in the Test format and gives an option to the selectors. It's a 20 percent chance though."
Though, Ganguly said that MS Dhoni is the best choice in the shorter formats as captain, like I ODIs and Twenty20 matches.
He said, "He has led the country to the World Twenty20 title and then the ODI World Cup. With two IPL titles and the Champions League Twenty20 title for Chennai Super Kings, he is the best currently for the shorter versions."
The former Indian skipper Sourav Ganguly also highlighted his address to rethink on how the Indian team would approach Test matches, given the recent set-backs to team India in the test matches.
The Indian cricket team is all set to play 10 Tests at home from August to March against New Zealand, England and Australia.